CaixaForum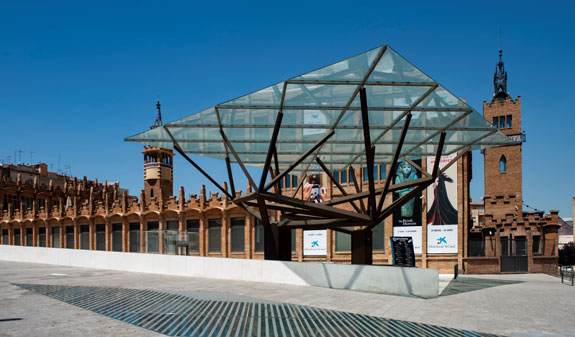 CaixaForum, the Museum and Cultural Centre of "La Caixa" Community Projects, is housed in one of Barcelona's landmark buildings, the Casaramona textile mill, a jewel of industrial modernista architecture designed by Josep Puig i Cadafalch.
CaixaForum is housed inside the former textile mill Casaramona, which was designed by Josep Puig i Cadafalch, and offers a wide range of events with a broad appeal: exhibitions of ancient, modern and contemporary art, which make CaixaForum one of Barcelona's most dynamic, active and vibrant venues. Exhibitions devoted to international artists, together with concerts, film screenings, debates and lectures, performing-arts events, sessions about literature and contemporary thought, multimedia art and family activities make the old factory a key attraction. "Check the programme of exhibitions".
CaixaForum brings together technology and creativity with Symphony and Bolero de Ravel, two immersive audiovisual experiences that takes you on a journey through emotions and music. Those VR experiences combine the latest technology and visual and musical sensitivity and creativity. Symphony offers compositions by Beethoven, Mahler and Bernstein performed by the Mahler Chamber Orchestra conducted by Gustavo Dudamel and with Bolero de Ravel, the audience can experience and enjoy classical music like one of the musicians in the orchestra.
In addition to this, CaixaForum has opened an exhibition space and is running a series of guided tours, entitled "Modernisme-Modernity. Tours of the Former Modernista Factory", which reveal the hidden details of the former textile mill. The exhibition gives us an insight into the history of the building and the figure of Josep Puig i Cadafalch, who, along with Domènech i Montaner and Antoni Gaudí, was one of the leading lights of modernista architecture.

Back to index
General details
Address:
Avinguda de Francesc Ferrer i Guàrdia, 6-8 (08038). Barcelona
Phone:
934 768 600
Web site:
www.laCaixa.es/ObraSocial
Opening time:
Daily, from 10am to 8pm. | January 5th, December 24th and 31st: from 10am to 6pm. | Closed: January 1st and 6th and December 5th.
Back to index
Accessibility details
CaixaFòrum has no architectural barriers and runs guided tours of its exhibitions and the building for groups with special needs.
For information and bookings: Tel: 934 768 630
seducatiu.caixaforum@fundaciolacaixa.es
CaixaFòrum participates in the social and educational program
Apropa Cultura
(Closer to Culture)

Caixa Fòrum runs guided tours of its exhibitions and the building for groups of blind or visually impaired visitors. All groups must have a minimum of 10 people. Prior reservation is necessary.
There are audioguides in different languages for the permanent exhibition. Some of the temporary exhibitions also have audioguides.
The button panels in the lifts feature raised lettering and Braille.




Caixa Fòrum runs guided tours of its exhibitions for groups of deaf and hearing-impaired visitors, in sign language, as well as tours designed to aid oral communication.
The auditorium and lecture theatres 1 and 2 are fitted with an induction loop.



Parking:
There are two disabled parking spaces in the street right in front of CaixaFòrum. There is also an underground car park on Avinguda Maria Cristina which has two disabled bays which are correctly marked.

Mobility inside the building:
The CaixaFòrum building is adapted for people with reduced mobility and is easily accessible. Its different floors are connected by spacious lifts.
The auditorium which has areas reserved for wheelchair users on the back row.
CaixaFòrum has wheelchairs that can be loaned to visitors.

Toilets:
There are adapted toilets on the ground floor (Planta 0) and in the cafeteria.



Guided tours and educational activities for visitors with learning difficulties and intellectual impairment can be arranged (prior registration necessary).
Last update: 01/08/2023
Back to index
Booking
Purchase on-line.
BCN Shop
: Virtual shop run by Turisme de Barcelona where you can purchase tourist products and services.
Back to index
Send your comment about this information (will not be published)
Back to index