Jardí Botànic de Barcelona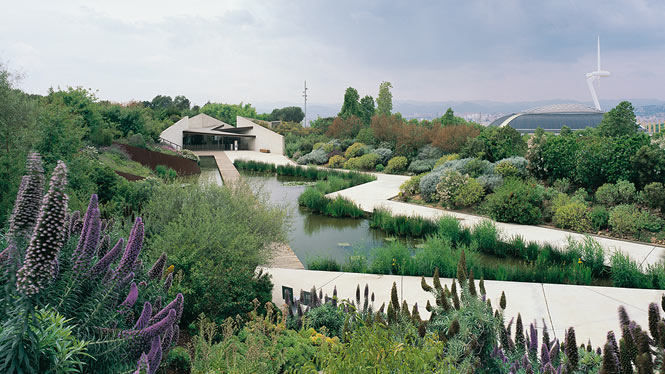 The Barcelona Botanical Gardens are located on a gentle slope in Montjuïc Park and offer a different walk for every season of the year, through the vegetation from the five regions of the world with a Mediterranean climate.
The Botanical Gardens feature a wide variety of plant specimens from countries with a Mediterranean climate, showing the great similarity between the landscapes of California, Chile, South Africa and Australia, and the Mediterranean basin. Unlike other museums with collections of non-living materials, the Gardens are a constantly evolving, dynamic space. New species are grown every year in the nurseries and planted out in the grounds. The ones that fail to adapt to the climate or soil characteristics are removed from the collection.
The Botanical Gardens are home to some 1,350 species, although the eventual aim is to grow 4,000 Mediterranean species from around the world. The species are grouped together in a recreation of their natural ecosystems.
The Botanical Gardens were created to contribute to the ex-situ conservation of Mediterranean biodiversity, mainly focusing on species from Catalonia. The Gardens are the ideal place to grow and exhibit plant species that are under threat. They also disseminate knowledge about which species need protecting and the actions to be taken in order to achieve this aim.
Back to index
General details
Address:
Carrer del Doctor Font i Quer, 2 (08038). Barcelona
Phone:
932 564 160
Web site:
www.museuciencies.bcn.cat
Opening time:
November - January: daily, from 10am to 5pm. | February - March: daily, from 10am to 6pm. | April - May, September - October: daily, from 10am to 7pm. | June - August: daily, from 10am to 8pm. | Closed: 1st January, 1st May, 24th June and 25th December.
Back to index
Accessibility details
Barcelona's Botanical Gardens have no architectural barriers and are accessible for a wheelchair user.
Every weekend morning they run free guided tours led by expert guides from the Friends of the Botanical Gardens Association. These volunteers also organise walks through other parks in Barcelona.
For further information, visit the
Association's website

Barcelona's Botanical Gardens are a great option for visually impaired visitors. There is a tactile plan of the grounds at the entrance, and visitors can touch the plants, many of which are aromatic.



The gardens have designated reserved parking bays. The main entrance to the gardens has a wide ramp with a 10% gradient.

We recommend visitors to be accompanied by a friend or family member, as some sections may be quite steep.

The route through the gardens is long and laid out in a zigzag. The paths are often combined with steps, and this is why we recommend using the wider pathways which are barrier free.

One electric scooter is available for free. It can be a useful option for visitors with reduced mobility.

The main building has two correctly adapted toilets.
Last update: 05/04/2013
Back to index
Booking
Call Center
Service providing personalized tourist information about Barcelona in several languages, by phone, fax and e-mail. We'll be glad to help you to book and buy tickets for tours, shows or other.
Phone: (34) 932 853 832, Monday to Friday from 8 am to 8 pm
Fax: (34) 932 853 831
E-mail:
infoaccess@barcelonaturisme.com
Purchase on-line.
BCN Shop
: Virtual shop run by Turisme de Barcelona where you can purchase tourist products and services.
Back to index
Send your comment about this information (will not be published)
Back to index