Museu Picasso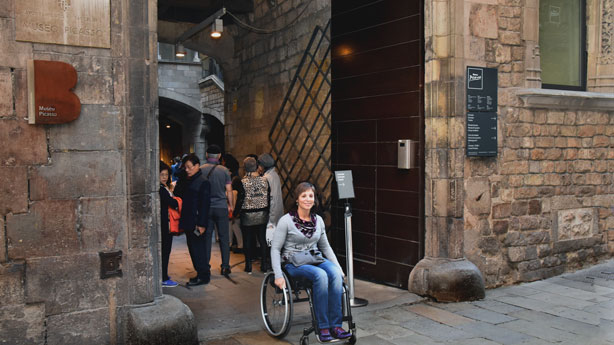 The Museu Picasso is housed in five Catalan-Gothic-style palazzos dating from the 13th and 14th centuries, and opened to the public in 1963. It is now an essential museum for anyone wanting to find out about the artist's formative years.
The museum shows the solid bond between the Malaga-born genius and the city of Barcelona. The permanent collection comprises over 3,800 works from different periods, but with particular emphasis on works from his formative years and youth. The Museum Picasso also features the extraordinary Las Meninas series, works from the Blue Period, as well as an extensive programme of exhibitions which complement the permanent collections.
The museum is embarking on a new phase of expansion with the launch of new programmes and activities designed to make it a key centre for fostering knowledge and education, encouraging visitor participation and a critical approach. The museum seeks to provide a space for dialogue, offering new perspectives on Picasso and the collection as a whole.
If you're interested in art museums, don't miss the Articket, the pass providing skip-the-line admission to Barcelona's 6 top art museums. Valid for 12 months with savings of 45%.

Back to index
General details
Address:
Carrer de Montcada, 15-23 (08003). Barcelona
Phone:
932 563 000
Web site:
www.museupicasso.bcn.es
Opening time:
Tuesday to Sunday, from 10am to 7pm. | Closed: January 1st, May 1st, June 24th and December 25th.
Back to index
Accessibility details
The building is accessible to people with reduced mobility.
The museum has a multimedia audioguide that invites visitors to look at the works on display. It contains information about 40 major works from the collection along with complementary images that help to understand better the background to the works. Available in English, Catalan, Spanish, French, Italian, German, Russian and Japanese.
Free for disabled card holders (not for the escort).
The Picasso museum participates in the social and educational program
Apropa Cultura
(Closer to Culture)

The museum offers the "Group Tour" system for hearing-impaired visitors who do not use hearing devices. This sound-amplification system can be used during guided tours for groups.



People with reduced mobility and wheelchair users can skip the queues and go straight to the ticket office at 23, Carrer Montcada (if you enter Montcada from Carrer Princesa, it is the door furthest away from the museum entrance).

Disabled visitors can get around the museum without any difficulties. There are adapted lifts for wheelchair users. Visitors with reduced mobility or in wheelchairs can use the spacious lift if they ask the staff at the museum.
Wheelchairs on loan. Ask at the reception desk.

The museum has adapted toilets, located at the ground floor, where there is the cafeteria and also the bookshop.
Last update: 18/08/2023
Back to index
Booking
Purchase on-line.
BCN Shop
: Virtual shop run by Turisme de Barcelona where you can purchase tourist products and services.
Back to index
Send your comment about this information (will not be published)
Back to index