Museu Egipci de Barcelona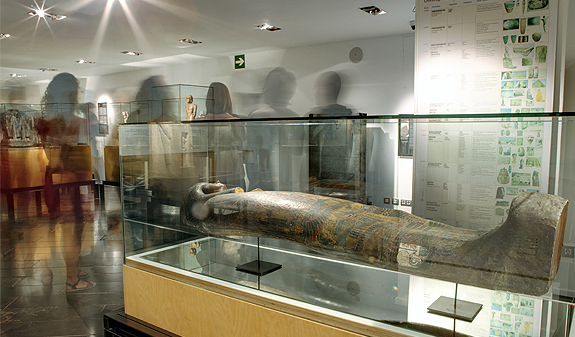 The Fundació Arqueològica Clos - Museu Egipci de Barcelona is one of Europe's foremost private collections of Egyptian art and culture, and an organisation committed to research and the study and dissemination of Ancient Egypt.
More than 2,000 m2 of gallery space showcase almost one thousand exhibits, including sarcophagi, mummies, jewellery and amulets, to give us a greater understanding of everyday life and the prevailing customs of the ancient civilisation of the Pharaohs.
The Museu Egipci de Barcelona runs guided tours of its collections led by Egyptologists, which are essential in order to give visitors a greater understanding and knowledge of Egyptian culture and civilisation.
In addition to the permanent collections and the temporary exhibitions, the museum also organises other activities which enable visitors to enjoy the collections in an entertaining, fun way. These activities include night-time guided tours featuring re-enactments of scenes by actors. Another of the activities is the Eternal Banquet ("Banquet Etern"), a guided tour centring on Egyptian cuisine which gives visitors the opportunity to taste products that were part of the diet of this ancient civilisation.
Back to index
General details
Address:
Carrer de València, 284 (08007). Barcelona
Phone:
934 880 188
Web site:
www.museuegipci.com
Opening time:
Monday to Saturday, from 11am to 2pm and from 4pm to 7pm. Sunday, from 11am to 2pm. | Closed: January 1st and 6th, December 25th and 26th.
Back to index
Accessibility details
Barcelona's Museu Egipci runs guided tours in Catalan and Spanish and also stages dramatised tours. There is a guided tour for groups that can be adapted to blind people, but there are no sign language tours or facilities for deaf visitors. There are no architectural barriers inside the museum. The museum offers reduced admission for senior citizens.

The museum building is accessible from street level and has a lift that can hold eight people and stops at each floor. There is an adapted toilet.
Last update: 22/08/2011
Back to index
Booking
Call Center
Service providing personalized tourist information about Barcelona in several languages, by phone, fax and e-mail. We'll be glad to help you to book and buy tickets for tours, shows or other.
Phone: (34) 932 853 832, Monday to Friday from 8 am to 8 pm
Fax: (34) 932 853 831
E-mail:
infoaccess@barcelonaturisme.com
Purchase on-line.
BCN Shop
: Virtual shop run by Turisme de Barcelona where you can purchase tourist products and services.
Back to index
Send your comment about this information (will not be published)
Back to index