Centre de Cultura Contemporània de Barcelona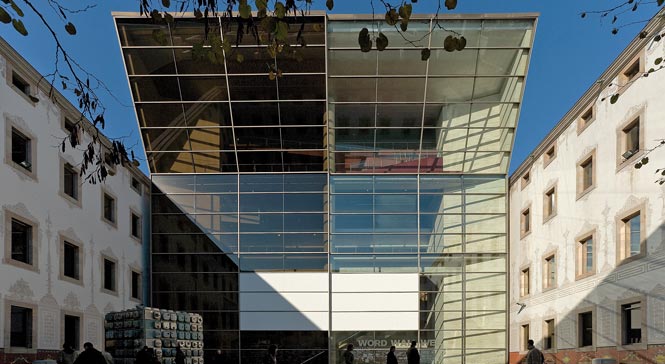 The CCCB, which is housed in the former workhouse building, the "Casa de la Caritat", is one of the major infrastructures from the 1990s. All its activities focus on the theme of the city and urban phenomena, analysed from every point of view and cultural discipline.
There are many reasons why this culture center in Barcelona is an unmissable visitor attraction. The building in itself is an architectural landmark: the "Casa de la Caritat", a former workhouse in the Raval district, which underwent a refurbishment programme earning it the FAD architecture prize.
The CCCB hosts a broad programme of exhibitions about the most diverse aspects of contemporary art and culture. It also organises complementary activities which embrace a diversity of fields from music to dance, independent video to alternative cinema, performance to multimedia creations, Master's and post-graduate courses to international debates, and children's entertainments and theatre.
Back to index
General details
Address:
Carrer de Montalegre, 5 (08001). Barcelona
Phone:
933 064 100
Web site:
www.cccb.org
Opening time:
Tuesday to Sunday, from 11am to 8pm. | January 5th and 6th, December 24th, 26th and 31st: from 11am to 3pm. | Closed: January 1st and December 25th.
Back to index
Accessibility details
The Centre de Cultura Contemporània de Barcelona (CCCB) has no architectural barriers and runs guided tours adapted to the needs of different types of visitors.
The CCCB participates in the social and educational program
Apropa Cultura
(Closer to Culture)
Group visits must be booked in advance by phone: 933 064 135 (Tuesday-Friday, 10am-1pm) or by e-mail:
SEducatiu@cccb.org
Admission is free for senior citizens and holders of the Targeta Rosa (a transport card for the over 60s and people with disability levels of 33% or more, which provides free admission and discounts at museums and attractions. To obtain the card you must be on the Barcelona electoral register).

The CCCB can arrange descriptive guided tours for blind people. Prior arrangement is necessary.


Many of the feature films and short films screened at the CCCB are in their original language with Catalan subtitles. These subtitles are helpful to deaf people, although they haven't been specifically designed for them.

The members of staff leading the guided tours use voice amplifiers.

The entrances to the CCCB are at street level and, once inside, visitors with reduced mobility can get around the building using the lifts that connect the different floors and the different ramps which, in some cases, are longer than the distance stipulated in the accessibility guidelines.

The interiors of the galleries are very spacious and wheelchair users can move around comfortably. The CCCB takes standard mobility requirements into account when designing its exhibition layouts, ensuring visitors can move freely around the space.

The building has adapted toilets.

The Pati Manning, the courtyard which is the former cloister of the Casa de la Caritat (the former workhouse which was converted into the CCCB), hosts cultural events. There is flat-floor access to the courtyard and cafeteria and they also have adapted toilets. You have to ask for a key to use them as they are normally closed.

Since 2010, the CCCB runs the program
AlzheimArt
, which offers guided tours in exhibitions for Alzheimer's patients, their families and caregivers.
Last update: 10/12/2015
Back to index
Booking
Call Center
Service providing personalized tourist information about Barcelona in several languages, by phone, fax and e-mail. We'll be glad to help you to book and buy tickets for tours, shows or other.
Phone: (34) 932 853 832, Monday to Friday from 8 am to 8 pm
Fax: (34) 932 853 831
E-mail:
infoaccess@barcelonaturisme.com
Purchase on-line.
BCN Shop
: Virtual shop run by Turisme de Barcelona where you can purchase tourist products and services.
Back to index
Send your comment about this information (will not be published)
Back to index